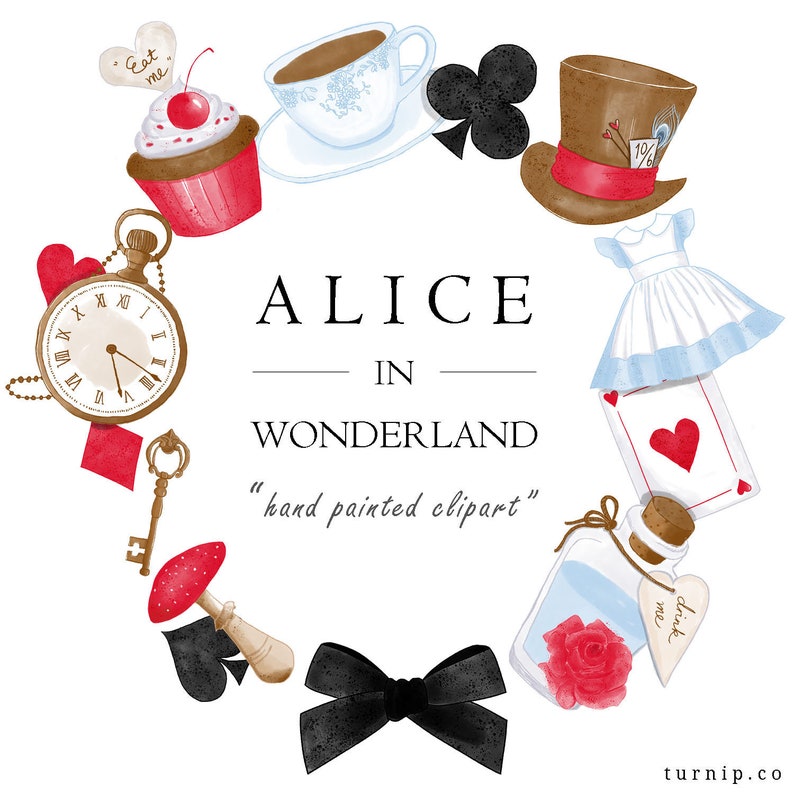 What You'll Get In This Watercolor Alice In Wonderland Clipart Set :-
[1] Clear glass bottle filled with magical blue liquid, topped with a cork, with a string tying a heart-shaped label that says "Drink Me" (which Alice drank and made her shrink in size).
[1] Golden key with intricate shape and pattern (which Alice uses to open the door and enter the garden).
[1] Pocket watch with numbers in Roman numerals, and accompanying chain (which the White Rabbit uses to tell that he is always so awfully late).
[1] One sweet little chocolate cake wrapped in velvet cupcake paper, topped with whipped cream and a red cherry, with a small sign that says "Eat Me" (which Alice eats and causes her to grow a huge height).
[1] One Mad Hatter's top hat in brown, and wrapped with red ribbon, including a blue feather piece, and accompanying sign which says 10/6 (the Mad Hatter used to sell hats, and marked them with their price, which in this case was "10 shillings and 6 pence).
[1] Lovely blue dress that Alice wore, which has now come to be known as the Alice in Wonderland dress.
… and more!
Click the image or link to navigate and see more…
[Read more…] about Watercolor Alice In Wonderland Clipart Set