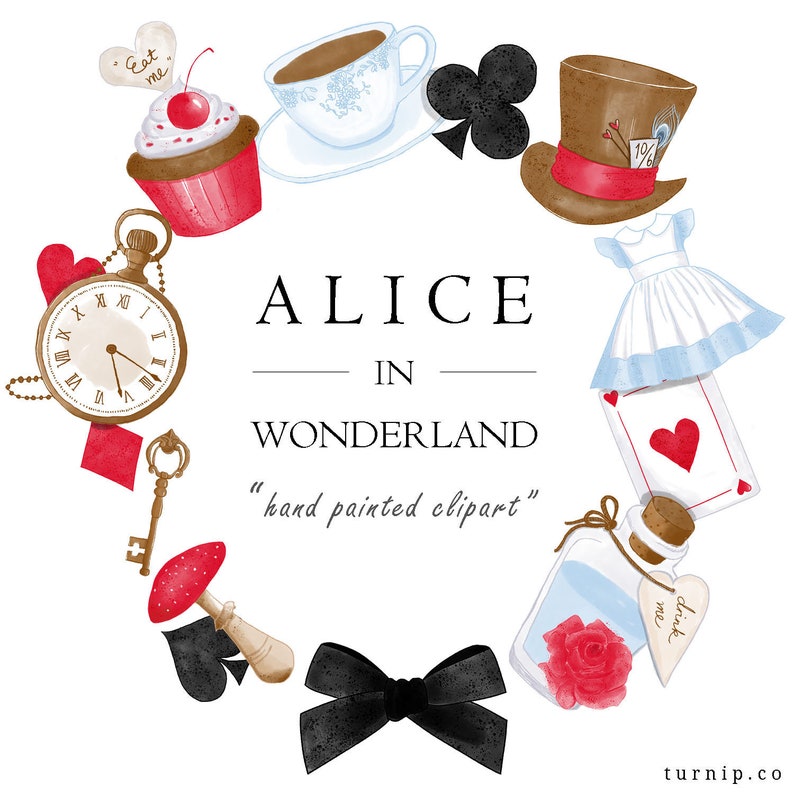 What You'll Get In This Watercolor Alice In Wonderland Clipart Set :-
[1] Clear glass bottle filled with magical blue liquid, topped with a cork, with a string tying a heart-shaped label that says "Drink Me" (which Alice drank and made her shrink in size).
[1] Golden key with intricate shape and pattern (which Alice uses to open the door and enter the garden).
[1] Pocket watch with numbers in Roman numerals, and accompanying chain (which the White Rabbit uses to tell that he is always so awfully late).
[1] One sweet little chocolate cake wrapped in velvet cupcake paper, topped with whipped cream and a red cherry, with a small sign that says "Eat Me" (which Alice eats and causes her to grow a huge height).
[1] One Mad Hatter's top hat in brown, and wrapped with red ribbon, including a blue feather piece, and accompanying sign which says 10/6 (the Mad Hatter used to sell hats, and marked them with their price, which in this case was "10 shillings and 6 pence).
[1] Lovely blue dress that Alice wore, which has now come to be known as the Alice in Wonderland dress.
… and more!
Click the image or link to navigate and see more…
–
[URL] : https://www.etsy.com/listing/702997219/alice-in-wonderland-clipart-set
[NAME] : Watercolor Alice In Wonderland Clipart Set
[SIZE] : 7 in by 7 in
[TYPE] : Transparent PNG
[ITEMS] : 16 items, 1 tea cup, 1 mad hat, 1 skirt, 1 pocket watch, 1 key, 1 rose, 1 bow tie, 1 mushroom, 1 drink me bottle, 1 eat me cake, 1 heart card, 1 club symbol, 1 spade symbol, 1 heart symbol, 1 diamond symbol, 1 tea cup filled with roses
[RESOL] : 300 dpi
[STYLES] : Watercolor, fantasy, whimsical, adventure, disney
[USAGES] : Planner stickers, business cards, clothing design, flyers, slideshows, etc.
[TAGGINGS] : Alice In Wonderland Clipart Set, Watercolor Alice Clip Art Images PNG, Mad Hatter, Tea Party Adventure, Eat Me, Drink Me, Key Illustrations
[OCCASIONS] : Birthdays, Tea Parties, Bridal Showers, Wedding, Anniversaries
–
[USE] : Unlimited Quantity Commercial License Included. You may use this for anything you want, except…
[TERMS] : You are not allowed to resell or giveaway this clipart as is. You may not sell or give it away as part of a clipart or graphics package. You cannot resell or re-license the rights to these graphics or use them in a trademark without permission.
[CREDITS] : No credit or attribution required, but is appreciated and welcome.
[SHARING] : You cannot sell, lend or give any of these cliparts to anyone. If you have any friend who likes our work please refer them to our store.
[ADDITIONAL] : Colors may vary upon printing due to computer color calibration.