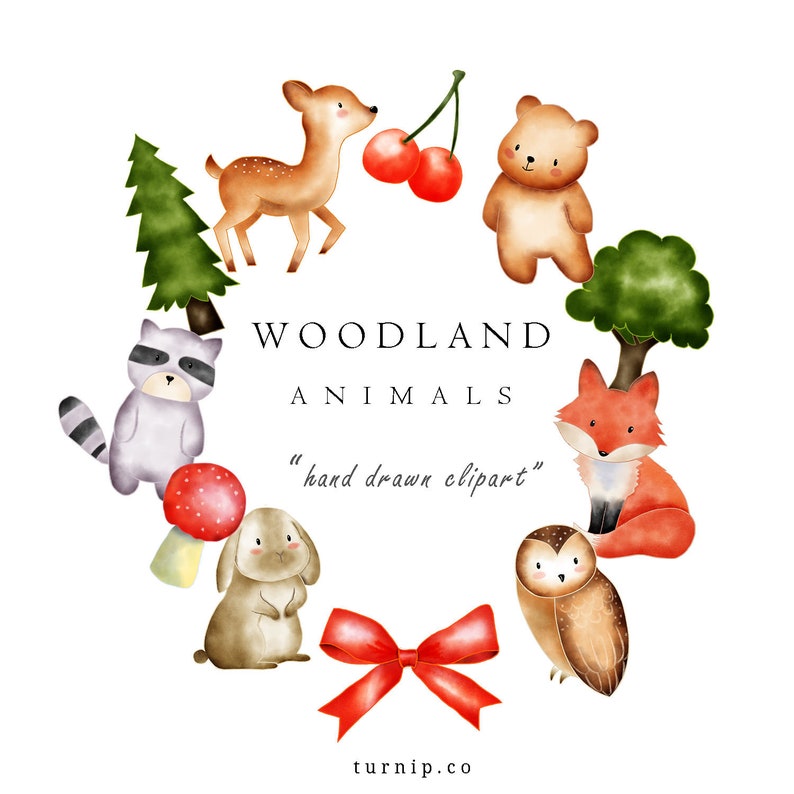 What You'll Get In This Watercolor Woodland Animal Clip Art Images Set :-
[1] Cute orange watercolor fox in sitting position looking towards you with tail in front of its black legs…
[1] Cute smiling watercolor Bear with cheek blush standing on two legs and looking towards the left…
[1] Watercolor gray bunny sitting on two hind legs and looking from left to right, holding its two front paws together almost, with long ears pointing downwards…
[1] Watercolor cute gray raccoon with neutral expression, standing on two legs and looking to the front…
[1] Watercolor cute brown owl standing on two legs, from side view, with head turned to face towards the front, and with spotted skin…
[1] Watercolor brown baby deer or fawn walking on all four legs from left to right, lifting one front leg, with white spots on its back.
[2] Watercolor green trees and brown trunk, with one looking like an evergreen and the other as a normal forest tree…
… and more!
Click the image or link to navigate and see more…
–
[URL] : https://www.etsy.com/listing/696475670/watercolor-woodland-animal-clip-art
[NAME] : Watercolor Woodland Animal Clip Art Images
[SIZE] : About 7 x 7 inches each
[TYPE] : Transparent PNG
[ITEMS] : 11 items (1 fox, 1 bear, 1 bunny, 1 raccoon, 1 owl, 1 deer, 2 trees, 1 mushroom, 1 bow tie, 1 fruit)
[RESOL] : 300 dpi
[STYLES] : Watercolor, cute, kawaii, sweet, childlike, whimsical, fantasy.
[USAGES] : Planner stickers, stationery design, leggings, banners, videos, etc.
[TAGGINGS] : Watercolor Woodland Animal Clip Art Images, Clipart Fox Bear Deer Raccoon Bunny Rabbit Owl Trees Forest, Commercial Use, Cute Kawaii, PNG
[OCCASIONS] : Baby showers, bridal showers, kids birthdays, anniversaries, celebrations.
–
[USE] : Unlimited Quantity Commercial License Included. You may use this for anything you want, except…
[TERMS] : You are not allowed to resell or giveaway this clipart as is. You may not sell or give it away as part of a clipart or graphics package. You cannot resell or re-license the rights to these graphics or use them in a trademark without permission.
[CREDITS] : No credit or attribution required, but is appreciated and welcome.
[SHARING] : You cannot sell, lend or give any of these cliparts to anyone. If you have any friend who likes our work please refer them to our store.
[ADDITIONAL] : Colors may vary upon printing due to computer color calibration.