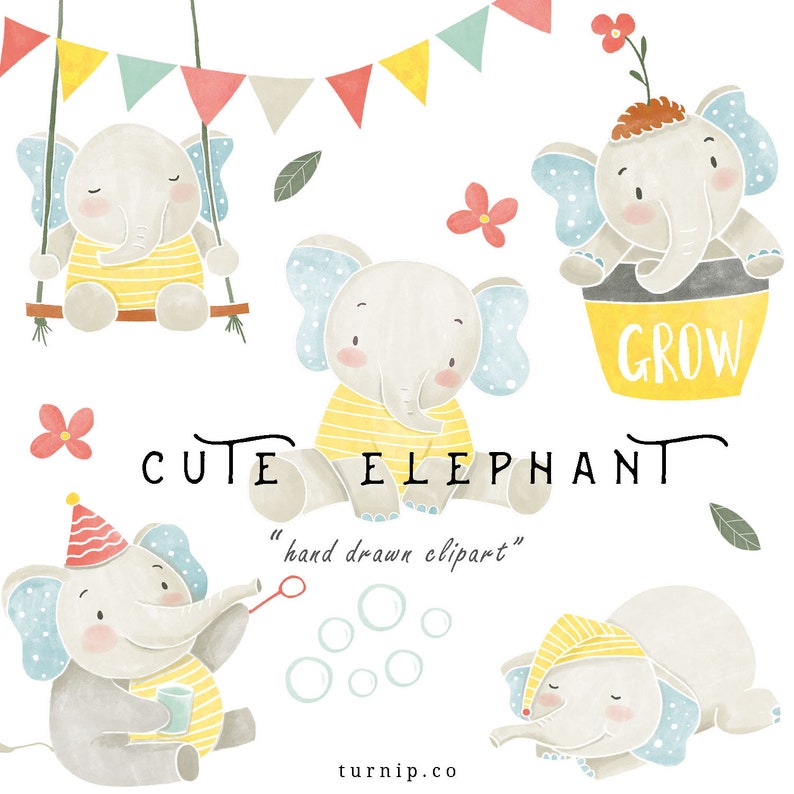 What You'll Get In This Watercolor Baby Elephant Clipart PNG Boy Girl Digital Download Set :-
Cute watercolor baby elephant with grey skin, blue spotted ears, blush cheeks, yellow striped shirt…
– with closed eyes enjoying and sitting on a swing.
– with open eyes, sitting spread legged with legs and hands touching the ground and eyes wide open.
– inside a yellow plant pot with the words "Grow" and with some soil and a red flower on top of its head.
– with a cup of bubble soap in one hand and making bubble float through the air on another hand, and a red party hat on its head.
– sleeping on the ground with a yellow striped night cap.
… and more!
Click the image or link to navigate and see more…
–
[URL] : https://www.etsy.com/listing/700945804/watercolor-baby-elephant-clipart-png-boy
[NAME] : Watercolor Baby Elephant Clipart PNG Boy Girl Digital Download
[SIZE] : 7 in by 7 in
[TYPE] : transparent png
[ITEMS] : 11 items ( 5 elephants, 2 flowers, 1 leaf, 1 banner, 1 bubble, 1 cluster of bubble)
[RESOL] : 300 dpi
[STYLES] : Cute, kawaii, watercolor, whimsical, fairytale, etc.
[USAGES] : Planners, card making, phone case design, youtube channels, game design, etc.
[TAGGINGS] : Watercolor Baby Elephant Clipart PNG Boy Girl Digital Download Design Baby Shower Invitations Gifts Cake Topper Designs Commercial Use Cute
[OCCASIONS] : Baby shower, birthday party, celebration, children's day, etc.
–
[USE] : Unlimited Quantity Commercial License Included. You may use this for anything you want, except…
[TERMS] : You are not allowed to resell or giveaway this clipart as is. You may not sell or give it away as part of a clipart or graphics package. You cannot resell or re-license the rights to these graphics or use them in a trademark without permission.
[CREDITS] : No credit or attribution required, but is appreciated and welcome.
[SHARING] : You cannot sell, lend or give any of these cliparts to anyone. If you have any friend who likes our work please refer them to our store.
[ADDITIONAL] : Colors may vary upon printing due to computer color calibration.