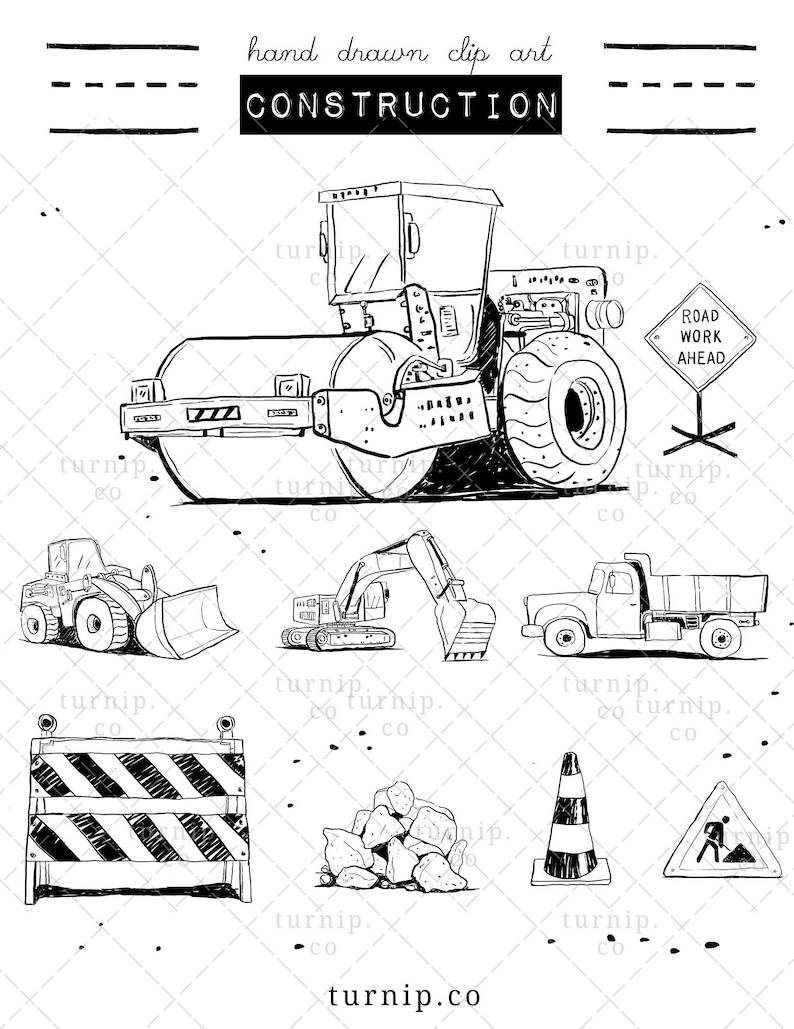 What You'll Get In This Construction Set :-
[1] Black and white Dump Truck
[1] Black and white Excavator Truck
[1] Black inked Front Loader Truck
[1] Black inked Road Roller Truck
[1] Black and white strips road blocker sign
[1] Black inked Road Word Ahead Sign
[1] Inked Men at Work Sign
[1] Black inked pile of rocks
[1] Black inked road cone
[1] Black inked road
… and more!
Click the image or link to navigate and see more…
–
[URL] : https://www.etsy.com/listing/790877781/construction-truck-clipart-black-and
[NAME] : Construction Truck Clipart Black and White
[SIZE] : 7 in by 7 in
[TYPE] : Transparent PNG
[ITEMS] : 1 dump truck, 1 excavator truck, 1 front loader, 1 road roller, 1 road blocker sign, 1 road work sign, 1 man at work sign, 1 pile of rock, 1 road cone, 1 road
[RESOL] : 300 dpi
[STYLES] : Hand drawn black and white line art, inking art, minimalism
[USAGES] : Scrapbooking, greeting cards, hoodie design, flyers, slideshows, etc.
[TAGGINGS] : Construction Truck Clipart Black and White, Dump Truck PNG, Excavator PNG, Front Loader PNG, Hand Drawn Inking Art Coloring Pages Clipart
[OCCASIONS] : Birthday Invitation, Craft, Coloring Pages, Birthday Card, Poster, Wall Art
–
[USE] : Unlimited Quantity Commercial License Included. You may use this for anything you want, except…
[TERMS] : You are not allowed to resell or giveaway this clipart as is. You may not sell or give it away as part of a clipart or graphics package. You cannot resell or re-license the rights to these graphics or use them in a trademark without permission.
[CREDITS] : No credit or attribution required, but is appreciated and welcome.
[SHARING] : You cannot sell, lend or give any of these cliparts to anyone. If you have any friend who likes our work please refer them to our store.
[ADDITIONAL] : Colors may vary upon printing due to computer color calibration.