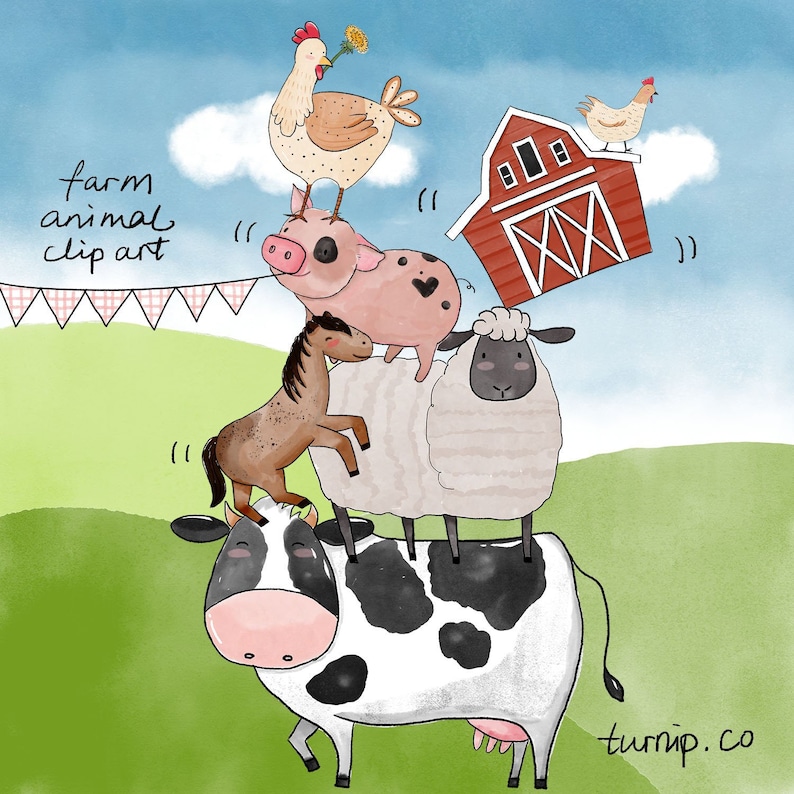 What You'll Get In This Watercolor Farm Animals Baby Shower Clipart PNG Images Kit :-
[1] Brown chicken with red head looking backwards over its shoulder
[1] Fluffy white cute woolly lamb with peach face and pink ears
[1] Brown headed chicken with closed eyes looking and running forward
[1] Tall standing white sheep on four legs with black face, ears, legs
[1] Cute little pink pig with black patches, including one on its eye and one shaped like a heart
[1] Pale ash pony with speckles on its back and long black tail trotting
[1] Black and white cow with smiling eyes, and pink udder
[1] Dark brown pony walking forward slowly
[1] Cute red barn with white wooden panel outlines
[2] Graham pattern digital papers in red and blue color
[2] Watercolor farm landscape and sky background images
[4] Farm animal silhouettes, including chicken, pig, cow, and stacked
… and more items!
Click the image or link to navigate and see more…
–
[URL] : https://www.etsy.com/listing/686208220/40-watercolor-farm-animals-clipart-for
[NAME] : 40 Watercolor Farm Animals Baby Shower Clipart PNG Images
[SIZE] : Approximately 7 x 7 inches each
[TYPE] : Transparent PNG
[ITEMS] : 12 farm clipart elements, 4 ribbon banners, 6 bounty flags, 3 label borders, 3 florals, 4 silhouettes, 2 backgrounds, 2 digital papers, 3 balloon elements, 1 combo bonus
[RESOL] : 300 dpi
[STYLES] : Watercolor, cute, cartoon, children's illustration, pastel, funny
[USAGES] : Scrapbook, business cards, invitations, banners, apps, etc.
[TAGGINGS] : Watercolor Farm Animals Clipart, for Baby Shower Invitation Girl & Boy, with Commercial Use, Cow, Pig, Chicken, Sheep, PNG Cartoon Clip Art
[OCCASIONS] : Baby Showers, Gender Reveal, Birthday Parties, Congratulation, Anniversaries, etc.
–
[USE] : Personal & Commercial License. You may use this for anything you want, except…
[TERMS] : You are not allowed to resell or giveaway this clipart as is. You may not sell or give it away as part of a clipart or graphics package. You cannot resell or re-license the rights to these graphics or use them in a trademark without permission.
[CREDITS] : No credit or attribution required, but is appreciated and welcome.
[SHARING] : You cannot sell, lend or give any of these cliparts to anyone. If you have any friend who likes our work please refer them to our store.
[ADDITIONAL] : Colors may vary upon printing due to computer color calibration.