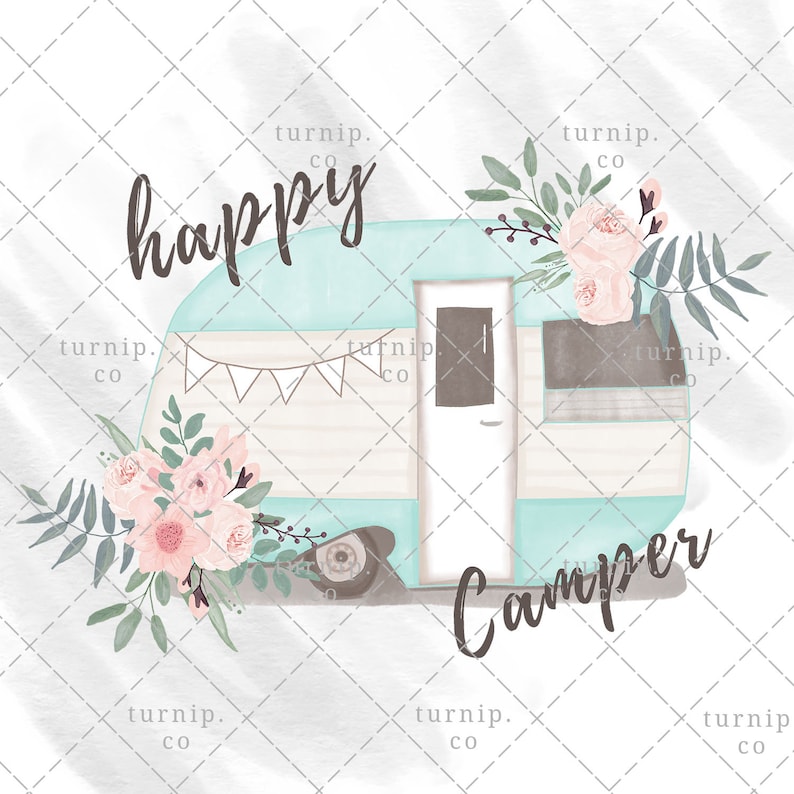 Here's what you get in this Watercolor Happy Camper Clipart PNG Sublimation Graphics Set:
[1] Happy camper van clipart PNG sublimation graphic in watercolor style colored a light blue at the top and bottom, with a middle stripe of white…
… the campervan is going towards the right, with the door visible, and windows shaded in black or dark grey…
… white bunting flags on the back of the van…
… and it is embellished with a beautiful delicate pink flower / floral bouquets at the top right and bottom left…
… the words "Happy Camper" are quoted as a pun.
Start using it instantly after download for your t-shirt design, mug design, product graphics, stickers, scrapbooking, heat transfer projects, wall art, crafts, blog posts, store banners, website design, apps, baby shower invitations, greeting cards, stationery design, collage, junk journals…
… and more!
–
[URL] : https://www.etsy.com/listing/691447338/watercolor-happy-camper-clipart-png
[NAME] : Watercolor Happy Camper Clipart PNG Sublimation Graphics
[SIZE] : About 12 x 12 inches
[TYPE] : Transparent PNG
[ITEMS] : 1 camping car with flower design
[RESOL] : 300 dpi
[STYLES] : Cute, handcrafted, peaceful, pleasant, playful
[USAGES] : Junk journaling, stationery design, phone case design, web design, powerpoint, etc.
[TAGGINGS] : Watercolor Happy Camper Clipart PNG Sublimation Graphics, Instant Digital Download,
[OCCASIONS] : Easter, Happy Birthday, Teacher's Day, Condolences, Retirement
–
[USE] : Unlimited Quantity Commercial License Included. You may use this for anything you want, except…
[TERMS] : You are not allowed to resell or giveaway this clipart as is. You may not sell or give it away as part of a clipart or graphics package. You cannot resell or re-license the rights to these graphics or use them in a trademark without permission.
[CREDITS] : No credit or attribution required, but is appreciated and welcome.
[SHARING] : You cannot sell, lend or give any of these cliparts to anyone. If you have any friend who likes our work please refer them to our store.
[ADDITIONAL] : Colors may vary upon printing due to computer color calibration.